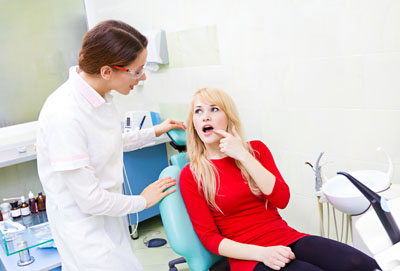 Many people prefer to have their teeth drastically improved by a cosmetic dentist, with the least amount of chair time possible. We understand how hard it is to set your valuable time aside in order to make endless dentist visits to improve your teeth. A popular way to enhance your appearance today is by the use of dental veneers.
Dental veneers give you immediate, attractive results without requiring all the dentist visits and adjustments that braces and other more extensive treatments require. Here are the answers to a few common questions concerning veneers to explain the effectiveness of the veneers.
If I get dental veneers, will my teeth look fake?
Today's veneers are more realistic-looking than ever before. We now have advanced technology that allows us to improve and restore front teeth with ceramic dental veneers. These have a translucency and sheen that likens them to natural teeth. Dental veneers do not react negatively to oral tissues and will not irritate the gums. Dental veneers are one of the most natural-looking improvements that we can accomplish.
What do veneers fix?
As a cosmetic dentist, our veneers cover a variety of dental imperfections, including teeth that are crowded, crooked, blemished, chipped, cracked, discolored, or have spacing issues. Many patients who do not want braces or other long-term straightening methods prefer our dental veneers. They can offer you immediately straightened results in only two visits to our office.
What exactly are veneers in simple terms?
Veneers are extremely thin shells of porcelain/ceramic material that we bond to the fronts of the teeth for a realistic-looking dental improvement. The cosmetic dentist will take a detailed impression of the teeth during the first visit. We will use the impression to customize the veneers. Once the veneers are ready, we will securely adhere them to the fronts of the teeth with a dental cement.
Are dental veneers durable and long-lasting?
As a cosmetic dentist, we can reinforce, restore, and improve teeth with our quality dental veneers, they will stay in place for many years. The materials they are made of are similar in resistance to natural teeth. If the patient wants the longest life for dental veneers, there are a few precautions we advise. If the patient struggles with teeth clenching or grinding, especially at night, we can provide the patient with a night guard to protect the veneers from unnecessary wear.
The patient may also want to reduce the intake of sticky, extra hard, sugary, and acidic food or drink items. These will cause more strain on both the natural teeth and dental veneers. The patient should also remember to brush at least twice daily and to floss at least once a day. All of these precautions will ensure the long life of the dental veneers. Many patients report that their veneers last for 20 years or more without the need for improvements or replacements.
When you want to fix your teeth quickly and still acquire long-lasting results, we advise you to learn more about our cosmetic dentist dental veneers option. Healthy Smiles Dental Care can help you attain your desired results with minimally invasive procedures in a timely fashion.
---
Related Posts
April 14, 2017
As a cosmetic dentist in Mason, we correct a variety of challenges that people have with their teeth, among them closing unsightly gaps. This is a fairly common problem to have. Many people end up …
---